This is very special Online course for improving the quality of writing answers and securing very good marks in Judicial Services Mains Examination. This is ideal course for those who are very well prepared with concepts and may qualify Prelims Exam but may find it difficult to Mains Examination with good marks. Students who are repeatedly qualifying Prelims Exam but are struggling to qualify the Mains Exam despite their best efforts may also subscribe to this course. This course will ensure their selection with good rank.

Further Details of the Course (Download pdf)
This is the very special course in which your answers will be checked live. This course provide an opportunity to learn not only from your mistakes but also of others.

You will be guided, how should you write better answer to secure good marks in Judiciary Mains Examination ? What are common mistakes and how such mistakes can be avoided? What should be the model answer of given question?

Answers of total 150 questions of 15 subjects, as per list given below, shall be discussed in live classes.

Students will be given set of questions of each subject in advance so that they may prepare the topics thoroughly before writing answers.

Students will write the answer at home first, then they will type the same answer and send to us without any modification thereof. Answer if typed would help in better checking on screen as font size may be adjusted and focus can be maintained on quality of answer instead of handwriting of the student.

Answer of about 5 students for each question shall be checked in live classes along with model answer to the question so that one question may covered in single class. So basically, this course shall consist of 150 Classes to be covered in one year.

After completion of one subject minimum, 15 to 30 days' time shall be given to prepare next subject depending upon the nature of the subject.
Subjects to be covered in Mains Answer Writing Classes
☛ Indian Contract Act (15 questions)
☛ Indian Penal Code (15 questions)
☛ Code of Criminal Procedure (15 questions)
☛ Code of Civil Procedure (15 questions)
☛ Indian Evidence Act (15 questions)
☛ Transfer of Property Act (15 questions)
☛ Constitution of India (10 questions)
☛ Specific Relief Act (10 questions)
☛ Indian Limitation Act (10 questions)
☛ Hindu Marriage Act (5 questions)
☛ Hindu Adoption Act (5 questions)
☛ Hindu succession Act (5 questions)
☛ Hindu minority and Guardianship Act (5 questions)
☛ Muslim law (5 questions)
☛ Indian Partnership Act (5 questions)
You need to download mobile App Vidhi Judicial Academy from Google Play Store for accessing this course.
Thereafter, you need to create your account, which is free, by signing up and creating a login Id, which should be your email Id.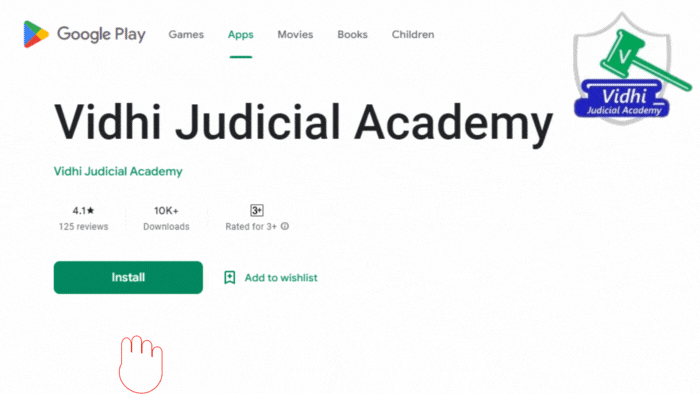 Fee of the Course
For Fee Structure Contact Us on 9205988280 / 81 Or Fill the Quick Enquiry Form.
In case of any dispute, Courts of Delhi shall have the jurisdiction to adjudicate.
In case there is any difficulty, you may contact on WhatsApp at 9205988280 / 81.